Autism. Maternal contribution
ACTUAL 3D SPACE. AUTISTIC CHILDREN LEARN IN 3D SCENE
What is Neuropsychosocial model?
Community Development and disability.
How to make the IACD standards work?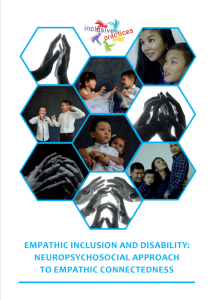 10-14 April 2019
Inclusive Practices Workshop (Ureki, Georgia)
Empathic Inclusion and Disability: Neuropsychosocial Approach to Empathic Connectedness.
3-5 October 2018
Conference "Inclusive Community Development Practices" (Ureki, Georgia)
Empathic interaction paradigm for Inclusive Communities: Modern Neurophysiological Context.
2017
Publication in the Scientific Library of the Russian Medical Academy of Continuing Professional Education:
Atlas of the most important neurofunctional structures and systems. Development of Consciousness and Speech of Children Overcoming Autism.
July 15, 2013
Holistic Functional Approach to Autism: A Case Study
June 12, 2010
SOCIAL AUTISM. Problems and their overcoming in the delicate and underlying structures of brain – body activity